Do you know about Slitter and Roll Slitter that are active in a wide variety of industries?
What is  Slitter and Roll Slitter?
Rolled material such as film, double-sided tape, adhesive tape, foil, metal, rubber, non-woven fabric, paper, glass fiber, fiber, leather, tarpaulin, composite material, foaming agent, vinyl and carbon sheet can be used in specified width It is a cutting machine.
Both products are common in terms of "cutting the material to the specified width", but especially in recent years "I do not know because the name of slitter and roll slitter are similar" "Which slit processing can be better" "How to slit I often hear a lot of questions"
I think you all have such questions.
In this article, "Kindai Co., Ltd., a well-established slitter manufacturer" who has been making both products for many years, will explain in detail about these questions.
---
Features of Roll Slitter
"I want a slitter that is easy to operate and maintain, even for newcomers and women."
"I want to slit as much as I need when I need materials"
"I want to introduce a slitter at the lowest possible price"
"If you have such needs, the roll slitter is the machine of choice."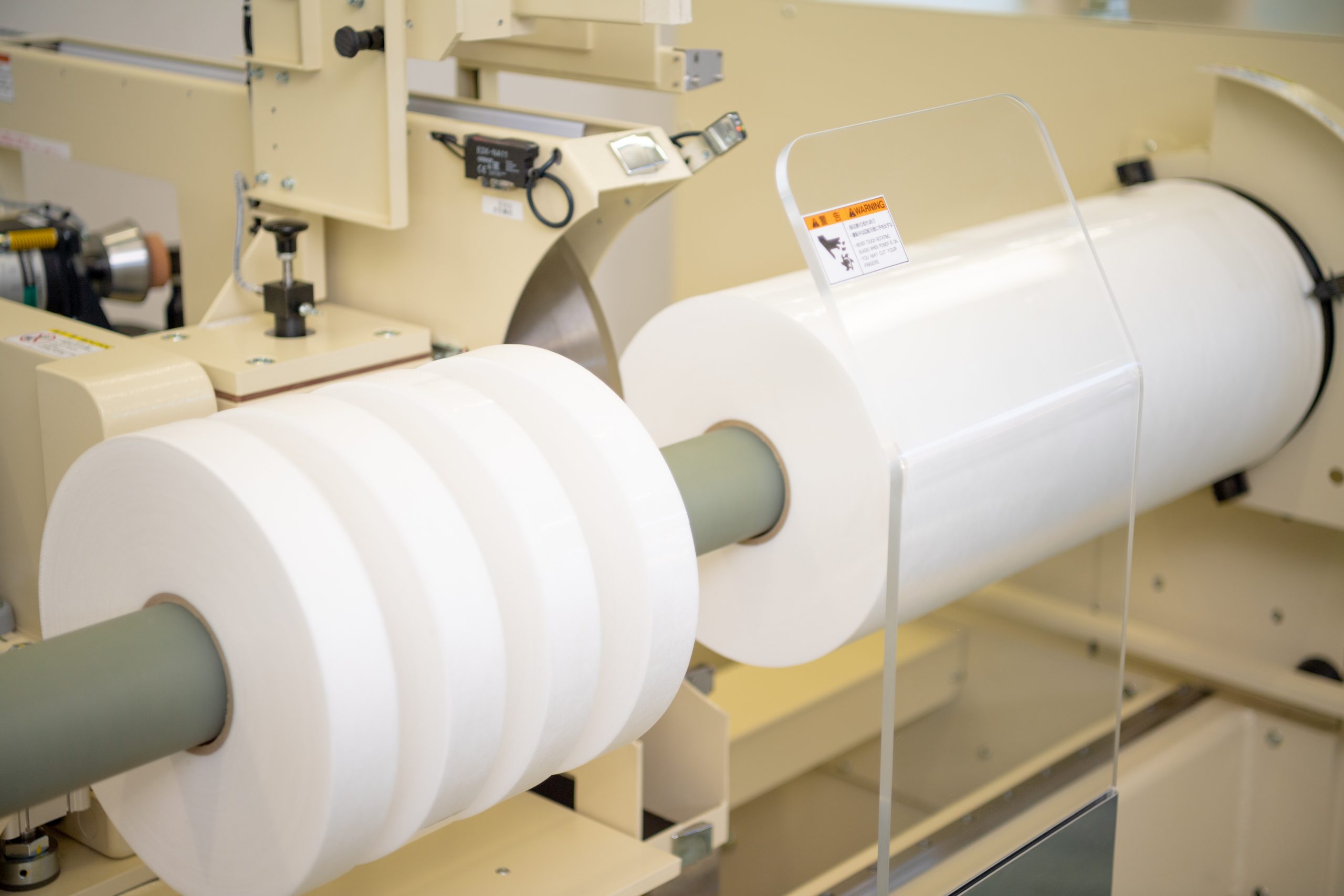 Roll Slitter slits the material wound in a roll with one round blade, as it is with the paper tube and the plastic core, by "cutting".
In recent years, the needs of each industry are changing rapidly, and many voices have asked us to make it a machine that is easy for newcomers and women to operate, and want to slit as much as needed when materials are needed. The conventional personal machine, "only this person can handle this machine", cannot meet the needs of today's increasing diversity.
In consideration of that point, our roll slitter allows various settings to be made easily by touch panel input, and has a mechanical and electrical design considering operability.
For example,
1. After setting the cut width, number of cuts and various settings, you can automatically cut by simply pressing the auto button.
➝ The settings can be easily done with the touch panel, so even newcomers and women can operate with confidence.
2. Slitting can be done immediately as needed, so you can work efficiently without waiting time.
➝ Contribution to inventory reduction and shortening of delivery time
Features of Slitter
"I want to perform slitting while winding the specified length"
"I want to perform slit processing with excellent productivity"
"I want to pursue high precision and high quality"
"If you have such needs, Slitter is the machine of choice."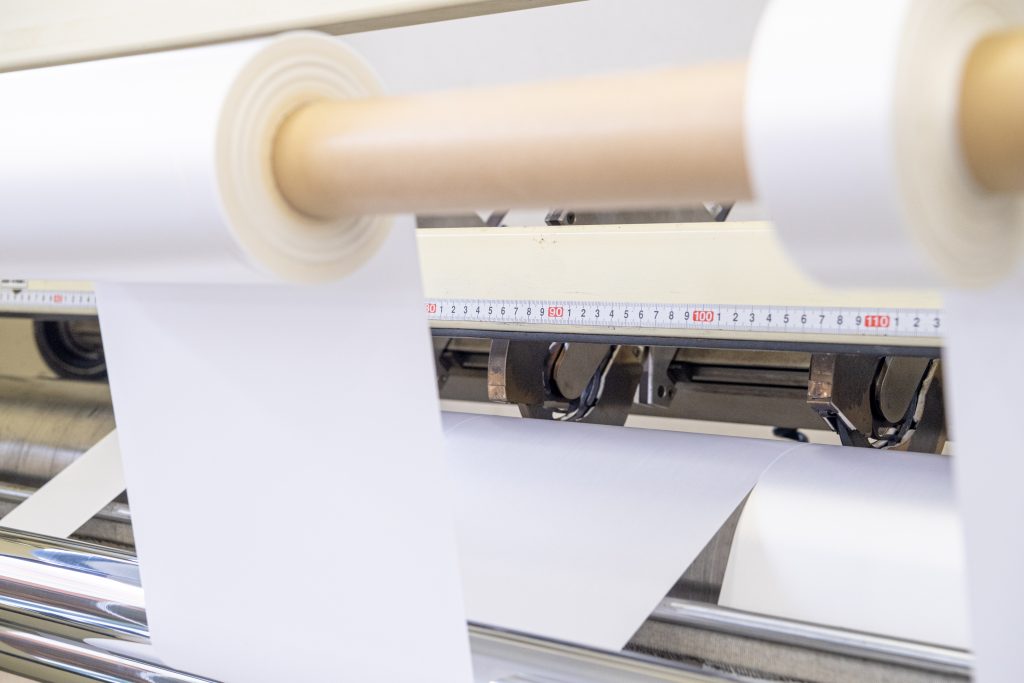 It is a machine that unwinds the material roll-to-roll using multiple blades and slits it, then winds the material with the specified number of winding meters. Since it is possible to slit one continuous sheet, processing can be realized with more stable accuracy.
In addition, there are three types of slit methods in Slitter. Since slitting can be performed by selectively using the "shear cut method", "score cut method" and "leather cut method" based on the material, cutting width, and processing conditions, it is possible to use various materials such as non-woven fabric, paper, film, sheet, vinyl chloride and various sheets. You can slit various materials.
For example,
1. Allows slitting to a specified width while subdividing the roll length of 500 m into 100 m
➝ Improves work efficiency in the next process by dividing into small pieces
2. It is possible to slit one continuous sheet with multiple blades to the specified width at the same time.
➝ Very good productivity and cut surface
List of features of Roll Slitter and Slitter
The following is a brief summary of "differences between Roll Slitter and Slitter".
| | | |
| --- | --- | --- |
| | Roll Slitter | Slitter |
| Blade Amount | one | several |
| Slit type | Cut to core | Roll to Roll |
| Operability | ◎ | △ |
| Productivity | △ | ◎ |
| Slit Accuracy | ◯ | ◎ |
| Cost | ◯ | ✕ |
| Range of industry | ◎ | ◯ |
*Comparison with standard specifications of our products.
For optimum slit processing
We are a group of professionals who have continued to manufacture both "roll slitter" and "slitter" products with 75 years of experience and technology since our establishment.
Our company is a professional group that has been producing both "Roll Slitter" and "Slitter" products with 75 years of experience and technology since its founding. As we fully understand the features of both products, we will propose the optimal Kindai product according to the customer's request.
A roll slitter and a slitter are permanently installed in the showroom (Izumisano City, Osaka Prefecture), so slit processing tests suitable for various materials can be performed. Please feel free to contact us if you would like to do test processing.